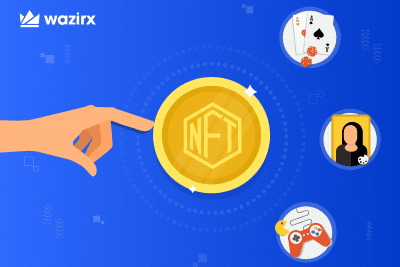 NFTs or Non-fungible tokens have been the most-talked-about topics in 2020 regarding blockchain technology, enjoying the same fame and popularity with DeFi and the iconic Bitcoin Halving that took place in summer 2020. NFTs are emerging in the crypto industry as a means to create and propagate exciting monetizing opportunities for various brands and collectors. This is because they are arguably authentic, secure to trade, and can include a wide range of branding opportunities and various types of artwork.
But what are non-fungible tokens exactly? Let's find out!
Understanding non-fungible tokens
In the most basic terms, non-fungible tokens represent uniqueness. They cannot be replicated or be equated with an asset that might seem similar. Let's try to understand the concept of 'non-fungibility' by defining its opposite – fungibility.
Fungibility refers to a good or an asset's ability to be exchanged or interchanged with an asset or a good of a similar type or belonging to a similar category. Fungibility implies that there is certain equality in terms of value between two assets. Fungible assets are not a new concept and have been used to simplify trades and exchanges since time immemorial.
A modern-day example of a fungible asset is the $1 bill in your pocket and the $1 bill in someone else's possession. Given that both the bills are authentic, they hold the same value, and if they are exchanged, neither of the parties stands to gain or lose from the trade. This is because the value of both bills is the same, and they are interchangeable.
However, in the case of non-fungible assets or tokens, our example changes a bit. Instead of two identical $1 bills, let's take plane tickets. These might look similar and belong to the same category, but they are not the same in the sense that the information they hold is unique. They are non-fungible since the information is different and exclusive for both the tickets. These two plane tickets can't be exchanged, simply because one might take you to a nearby state, while the other one could take you to the other side of the world.
From this, we derive the concept of non-fungible assets: they might look similar, but they have unique features that make it impossible for them to be interchangeable or have the same value. This uniqueness is precisely what makes these non-fungible tokens – as they become in the crypto space – so great. Bitcoin is an example of a fungible token if this concept is applied to the world of blockchain, simply because all the 21 million Bitcoins are identical in value.
Non-fungible tokens are not exchangeable and interchangeable. Each of these tokens is unique, and the data which makes them so unique is stored as information within these NFTs. This unique and exclusive identifying data is stored in the smart contracts inside these non-fungible tokens.
Another exclusive and special feature of non-fungible tokens is that they are indivisible. Unlike Bitcoins, they can't be sent in smaller denominations. You can not simply send a portion of an NFT to someone.
Non-fungible tokens are important simply because they represent uniqueness and hence, have a critical function when it comes to the blockchain. This is because most of the world's important assets are unique. From a breakfast cereal box having a unique serial number to expensive real estate withs exclusive addresses, uniqueness is everywhere and is imperative to preserve.
Non-fungible tokens have a gargantuan role to play as we slowly slip into the digital economy's next era. They are becoming increasingly critical as organizations and enterprises open up to the blockchain's idea and integrate its tech into their functioning.
Standards for NFTs
Before we delve into the history of nun-fungible tokens and how they came into being, it is imperative to know and understand the 'standards' that these NFTs have. Standards play a monumental role when it comes to making…


Read More:A Guide to NFTs – Web Hosting | Cloud Computing | Datacenter | Domain News