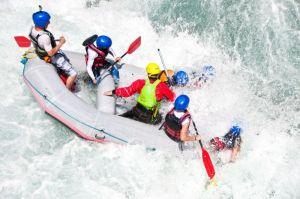 It's already July, meaning that the world left another month, quarter and half a year behind, and so did crypto. And what an eventful time it was. A rollercoaster type of eventful. The first quarter was entirely green, with nearly all coins recording triple-digit rises. The second quarter – not so much. Let's take a quick look back and dive deeper into the month of June, as well as the second quarter and the first half of 2021.
January was a very green month for the markets, with barely any coins in red, while all the top 10 by market capitalization finished it in green. Bitcoin (BTC) hit USD 42,000 and ethereum (ETH) reached USD 1,449, with altcoins seeing double-digit rises as well.
February was even better, with only two coins out of the top 100 ending up in red. BTC and ETH continued pushing higher, moving above USD 58,000 and USD 2,000, respectively. Binance coin (BNB), cardano (ADA), and polkadot (DOT) went up between 427% and 103%.
March continued the greenery and all-time high streaks. BTC surpassed USD 61,500, while this was the sixth month of consecutive gains for the coin. All top 10 coins had double-digit increases this month, except ADA, whose price had dropped.
And then, the second quarter began – and it proved to be one of the worst for the first crypto in the world.
April was successful price-wise, but noticeably less green than March. ETH has been outperforming BTC consistently over the month, with the former increasing 59 percentage points more than the latter. Bitcoin had the lowest increase among the top 10 by far. It saw its ATH of around USD 65,000, and it hasn't reached it again since, recording some drops this month, touching the USD 47,000 level. ETH kept rising, closing the month with USD 2,770, before it would surpass USD 3,000 at the beginning of May. Meanwhile, dogecoin (DOGE) appreciated around 530%, after it had started leading the market, with the Dallas Mavericks owner Mark Cuban and Tesla chief Elon Musk adding fuel to the fire yet again.
May saw a dramatic selloff, followed by consolidation. All coins in the top 10 dropped, except for ADA. Bitcoin was trading between USD 31,000 and USD 40,000 in the second half of the month, while ethereum traded between some USD 2,200 and USD 2,600, following a dip below USD 2,000. ETH had a much better month percentage-wise than BTC in May as well even though both had dropped over the month and since their ATHs. Analysts pointed to a wide range of possible causes behind the selloff: overheating market, large liquidations of leveraged positions, Elon Musk's BTC tweets, Tesla stopping payments in this currency, environmental concerns, somewhat hawkish US Federal Reserve, as well as the tighter regulation on crypto mining and trading in China.
And so came June, with some breaking news. El Salvador President decided to give bitcoin the status of legal tender, with lawmakers across Latin America expressing their support for bitcoin adoption. Just days ago, El Salvador officials said that the BTC they'll give away in airdrops is for spending, not for converting into USD.
Meanwhile, Beijing-backed anti-mining activities continued to gather pace. On the other side of the coin, as miners relocate from China, they disperse across the world, which will lead to hashpower decentralization.
After the May selloff, BTC briefly touched USD 40,000 in June, but stayed below it for the majority of the month. Ethereum also spent some time below USD 2,000, but not long, as it soon moved above that level, as the London upgrade was approaching – bringing with it the much-discussed EIP-1559. The activation of one of Bitcoin's biggest upgrades, Taproot, was also confirmed.
Top 10 Coins in June, Q2 & H1
The crypto markets ended June in red. There isn't one winner to talk about. The biggest drop among the top 10 by market capitalization was seen by XRP, with a fall of nearly 31%. It's closely followed by uniswap (UNI)'s 29% and


Read More:Coin Race: Top Winners/Losers of June, Q2 and First Half of 2021