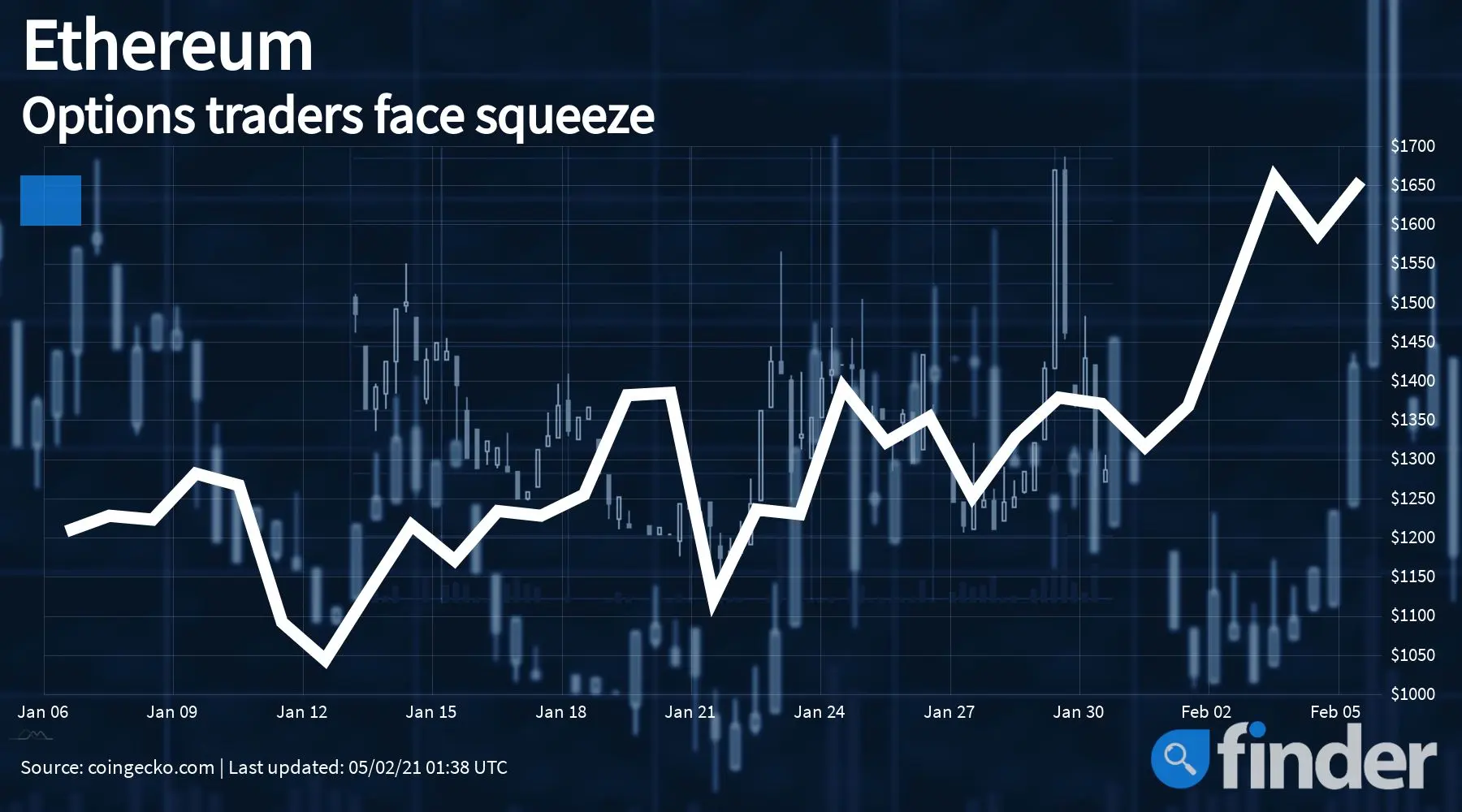 As Ether continues to rise, profit-taking and corrections may potentially send it back to the $1,500 region.
Ethereum's continued rise may largely be dependent on whether the currency's transition to V2.0 is successful or not.
At press time, more than 3 million tokens have already been staked on ETH2.0.
As a result of its recent upward push, a number of ETH options traders have had to face massive losses.
Despite fears of short-term volatility plaguing Ether due to its remarkable surge over the course of the last 72 hours, the premier altcoin is currently sitting tight around the $1,630 range. As a result, during the past seven-day trading cycle, the digital asset is exhibiting gains of over 23%.
To gain a better understanding of why Etherum is currently gaining so much traction from investors across the globe, Finder reached out to Paolo Ardoino, chief technical officer for cryptocurrency exchange Bitfinex. In his view, Ethereum's surge to its new all-time high above US$1,600 seems to have partly been fueled by a certain degree of market speculation, adding:
"But there is also an increasing recognition that blockchain-based technologies can address many commercial problems, from logistics to the ability to verify the source of certain products to payments. In this context, Ethereum's upward trajectory may be representative of the fortunes of the entire cryptocurrency ecosystem."
He then went on to highlight the fact that Bitcoin and Ethereum represent two very different value propositions within the crypto paradigm, with the latter serving as the currency to fuel a fledgling ecosystem of decentralized applications. "It was born to be the gas to power smart contracts. Also, Ethereum doesn't have a fixed supply and it is growing year by year. If bitcoin continues to appreciate, Ethereum may too", Ardoino added.
Similarly, providing his thoughts on Ether's ongoing run, Philippe Bekhazi, CEO and Co-founder of Stablehouse, a global digital currency clearinghouse for real-time cross-blockchain payments, told Finder that the currency's continued surge will largely hinge on whether the transition to ETH2.0 goes as planned or not.
He added that if ETH2.0 is able to deliver on its promises, we could see a much higher valuation for the second-largest cryptocurrency by total market cap. Conversely, if the experiment fails, there could be significant dips on the cards for Ether.
Ether's near term technical outlook
Finder also spoke with Vyacheslav Orskiy, senior analyst at cryptocurrency exchange KickEX, who pointed out that the premium altcoin, for a long time, had been consolidating around its previous ATH of around $1,400, adding:
"Given the high activity in ETH futures and margin transactions, it is highly probable that a large volume of short positions were accumulated in this consolidation, which will fuel the continued growth towards the $ 2,000 level."
He further opined that in his view, the primary factors that are actively supporting ETH at the moment are the continued growth of the DeFi ecosystem as well as an increasing amount of Ether being submitted on the Ethereum 2.0 network, with the deposit contract already boasting of more than 3 million coins. In this regard, one can see that as per data available online, the ETH2.0's interest rate continues to remain above the 9% mark.
Lastly, the fact that the market is once again in a cycle of rapid growth, high volatility may be incoming since traditionally the breakdown of strong resistance levels is usually followed by a value dip. "It would be logical to expect a local correction in Ether's value to the $1,440 – $1,500 range, which looks like a good entry point for a long position", Orskiy added.
Ether options traders are currently sitting on huge unrealized losses
According to data released by cryptocurrency derivatives platform Delta, an increasing number of options traders are currently sitting on substantial…


Read More:Ethereum price remains strong as options traders take losses – finder.com.au