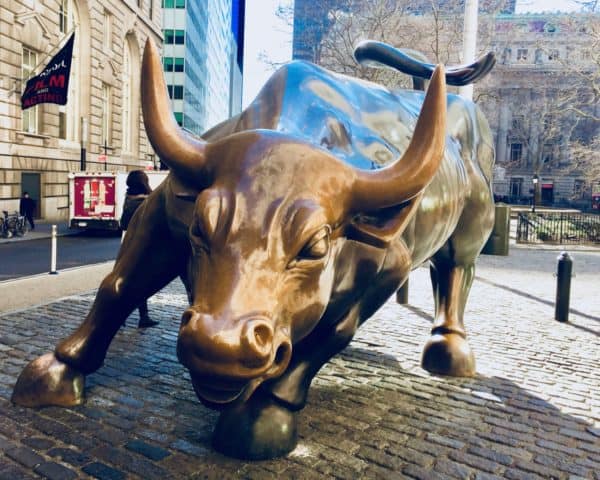 The majority of Goldman Sachs (NYSE:GS) clients are bullish on the future performance of decentralized cryptocurrencies such as Bitcoin (BTC) and Ethereum (ETH).
The giant Wall Street investment bank has shared the results of a client survey revealing that 61% of respondents believe their crypto-asset holdings could increase considerably in the next 12-24 months. Around 40% of respondents claim they currently have some exposure to digital currencies.
Approximately 57% of Goldman Sachs' survey respondents stated that the most important factor that led to a dramatic surge in the BTC price was "institutional investing or offering of additional products."
Bitcointreasuries.org, a website that keeps track of Bitcoin purchases by different companies, reveals that there are at least 22 publicly listed firms that presently hold over $7 billion worth of Bitcoin.
On March 1, 2021, MicroStrategy's (Nasdaq: MSTR), whose company share prices have dropped 50% in the last 17 days, Bitcoin holdings had reached a total of more than $4.4 billion. The second-largest Bitcoin holder is Elon Musk's Tesla, which acquired $1.5 billion in BTC last month.
PayPal's 300 million+ retail clients have also been offered the option to purchase Bitcoin, Bitcoin Cash, Litecoin, and Ethereum.
Goldman Sachs' survey has been released shortly after the bank announced that its digital currency trading desk will become active after a 3-year pause. Goldman is reportedly just weeks away from introducing BTC futures trading, and may be looking into providing a bitcoin exchange-traded fund (ETF) along with custody solutions for crypto-assets.
Investors' generally positive future outlook (according to the survey) is supported by recent findings that show 22% of respondents believe the BTC price will be over $100,000 in a year from now. More than half have predicted that the leading crypto will remain in the $40,000-$100,000 price range during the next year or two.
Apart from Bitcoin, nearly 30% of survey respondents chose Ethereum as the virtual currency of interest and 13% selected stablecoins, which are digital currencies that are pegged to real-world assets like gold or fiat currencies such as the US dollar or GBP.
Another takeaway is the strong investor sentiment around the need for progressive crypto regulations. Around 34% of respondents said it's one of the biggest challenges for crypto investing and 24% cited a lack of properly regulated investable digital assets to be the most significant barrier right now.
The bank's survey is reportedly based on feedback obtained from 280 respondents that includes asset managers and hedge funds, which represented the majority of surveyed companies, along with banks, pension/sovereign wealth funds and other organizations.




Read More:Goldman Sachs Bitcoin Survey Reveals Most Investors are Bullish on Cryptos like