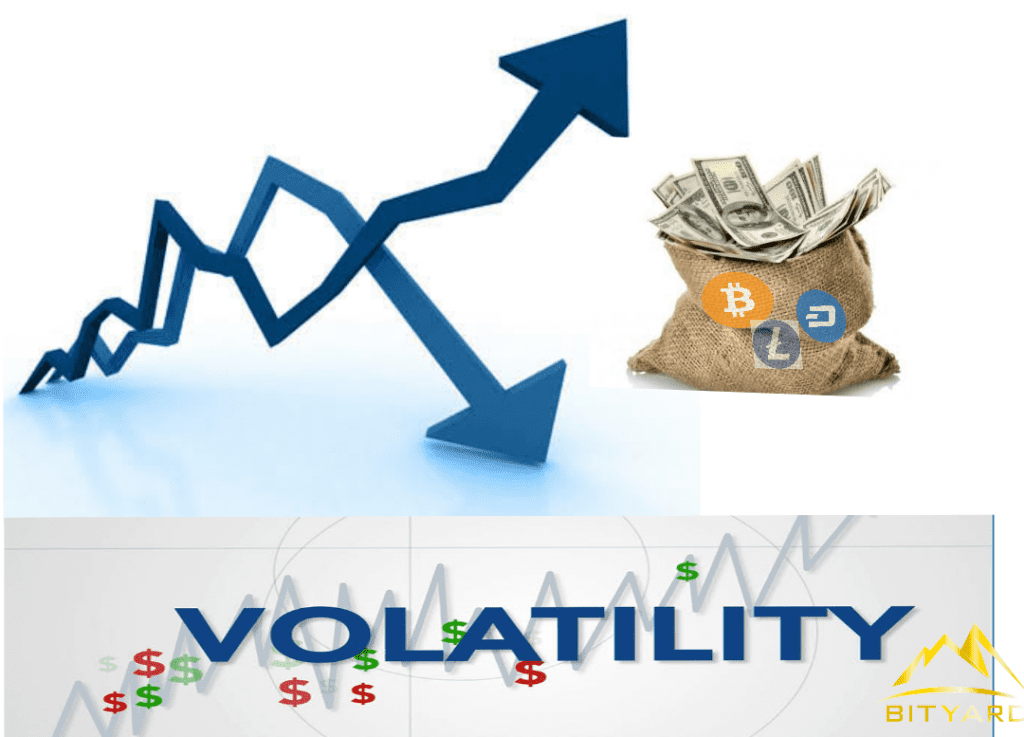 The impact and concept of volatility on the cryptocurrency market can never be over emphasized, while long term investors need not worry much about volatility, day traders and scalpers are fully aware that their profit/loss ratio depends mainly on how volatile the market is.
The platform a trader chose to trade on determines to a large extent the profit/loss ratio of the trader, that is why we recommended traders to trade on a platform that is highly regulated and yet offers a very well leveraged, safe and simple trading environment. The typical example of this type of trading platform is "Bityard the world leading trading platform".
NB: The concept of volatility encompasses not only the cryptocurrency market but also to other forms of security assets such as Derivatives, Stock market, forex, but not withstanding none of this market can be as volatile as cryptocurrency market.
In this article we will try as much as possible to explain in details how to earn in a volatile crypto market and we will also explain why we recommended Bityard trading platform.
The question now balls down to what is Volatility and what impact does it have on traders?
Literally a volatile market can be referred to as an " Unsteady Market" which can move either ways (up or down) at a very short period of time, it is characterized by price fluctuation.
The degree of Volatility can be measured using The Volatility index also called "CBOE VOLATILITY INDEX (The Cboe Volatility Indexes serves as real-time market index representing the market's expectations for volatility of a particular security asset "Cryptocurrency" over the next 30 days. For instance, The Bitcoin Volatility index tends to keep track of the fluctuations in the price of Bitcoin). Some cryptocurrencies tend to be more volatile than others, many factors contribute to this.
Based on degree of volatility, there are 3 main types of Volatility that can be seen on a cryptocurrency chart.
Types of Volatility that exist in the Cryptocurrency market based on degree of volatility.
– High Volatility cryptocurrency Market (Characterized by a drastic swindling in price within a very short period of time.)
– Moderate Volatile cryptocurrency Market (Characterized by low fluctuation in price over a short period of time)
– Low Volatile market/Rebasing Market (characterized by prices movement revolving around a fixed price).
NB; There are many other bases of classifying Volatility of a cryptocurrency Market.
HIGH VOLATILITY CRYPTOCURRENCY MARKET
This type of Volatility exists in two major categories of cryptocurrencies;
– Category 1:  Cryptocurrencies with high trading volume and fixed supply, this tends to make this category of cryptocurrencies very volatile. With respect to high trading volume much people tend to be in the market, take for instance the flagship crypto "Bitcoin" with more than 3billion trading volume, this means that at least up to 3-100million orders can be executed within milliseconds by both humans and bot alike. This type of market will be very volatile, also to convert this category of cryptocurrency to another you have to increase your spillage so as to accommodate the drastic changes that can occur within seconds.
-Category 2: Newly announced cryptocurrency or Newly listed cryptocurrencies, this category is susceptible to volatility owing to the fact that some crypto whales (individuals with large number of funds/cryptocurrencies) tend to be scalping this category of cryptocurrency. In some of this cryptos the owners may rug-pull (that is the owner may take away all the liquidity thereby causing the Cryptocurrency to start fluctuating). Just like in Category 1,…


Read More:TAKING ADVANTAGE OF THE VOLATILITY IN CRYPTO MARKET WHILE TRADING ON THE WORLD