Never forget that Tether used to tell you that it was 100% backed by U.S. currency, and it was only after an investigation by the New York Attorney General (NYAG) forced its hand that it ever admitted that this wasn't the case.
With that in mind: last week, Tether apparently released the first of its AG-mandated reserves reports to the world. This is required by Tether's settlement with the NYAG, the company must submit one each quarter for the next two years. I say apparently because what Tether actually released is a one-page document containing two pie charts: one which shows the makeup of Tether's reserves as being 74.85% "cash & cash equivalents," and another which further breaks down what 'cash and cash equivalents' means. 
The breakdown is provided without context and without any note as to how the figures were calculated, as you might expect from something prepared by a third-party accountant. There's also nothing explicit to say that this is what Tether submitted to the AG as part of the settlement. As presented, the numbers tell us virtually nothing concrete about the actual breakdown of Tether's reserves.
With that in mind, what is Tether trying to tell us with these figures?
The 75.85% figure is in line with the 74% given by Tether general counsel Stuart Hoegner in his affidavit to the New York Attorney General's office. However, the breakdown of "cash and cash equivalents" represents another surreptitious walk-back of representations previously made by the company: only 3.87% of this category is constituted by cash, meaning cash accounts for a measly 2.94% of Tether's entire reserves: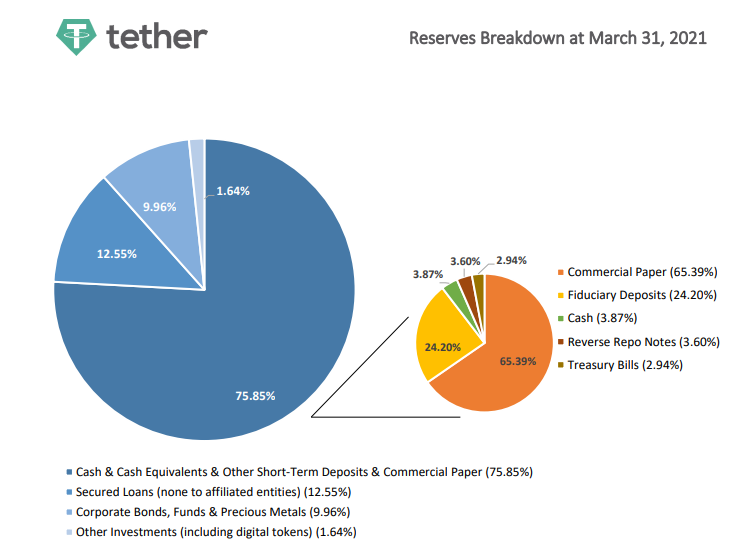 This is a far cry from the days when Tether was trying to convince us that every tether in circulation was backed by a matching U.S. dollar.
The other items listed in the breakdown, such as the 65.39% worth of "commercial paper," are next to meaningless in this context (what little there is to speculate about isn't encouraging). Had Tether released a third-party audit of its reserves—as critics have consistently asked for – we would be able to tell from disclosures made in the report and the accounting standards used exactly what these items constitute. As this is no more than two barely annotated pie charts, we cannot guess. There is so much room for interpretation within a phrase like 'commercial paper' that without a definition, it is meaningless.
So, while the statement "Tether is 100% backed" may be trivially true in that Tether issues USDT and also holds assets of some kind, this is not what Tether means when it calls itself a 'stablecoin.' When a digital asset holds itself out as a 'stablecoin,' what matters is exactly what that coin is being backed by. If that backing only amounts to less than 4% cash, with the rest of the backing still practically unknowable, in what sense can tether ever be considered 'stable'?
It appears that the only purpose this publication (and Tether's prior attempts at transparency) is meant to serve is providing Tether's uncritical supporters a headline from which to argue on Twitter, distracting from the truth: that we still know almost nothing about Tether's reserves.
Tether knows what it's doing
General counsel Stuart Hoegner has become the de-facto spokesperson for Tether, particularly when the question of its backing is concerned. In one way, this makes sense. As their general counsel, it's only natural that Hoegner would take point in conversations with regulators and law enforcement. On the other hand, is it appropriate for Tether, via their in-house lawyer, to not only refuse to acknowledge the true details of the settlement with the NYAG, but actively misrepresent it? Almost every representation Tether has made as to its reserves has been misleading if not an outright lie, and that includes those which have come directly from Hoegner. 
Hoegner's public statements on Tether follow a clear pattern….


Read More:Tether reaches new lows in quest to avoid being audited – CoinGeek