One reassuring aspect of the rollercoaster ride that saw Bitcoin lose half its value in less than two months is the immunity of the real financial world to contagion from crypto tokens, which I increasingly think of as UnfunnyNotMoney. But there is a danger that speculators, particularly if they're young and inexperienced, have a "once bitten, twice shy" reaction to losses that could harm their propensity to allocate cash to long-term savings.
The gamification of finance is a worrying trend, and it's not just restricted to buying and HODLing digital currencies. The FOMO/YOLO crowd has also embraced equities, as we saw earlier this year with the rise and fall (and rise again) of GameStop Corp. and other Robinhood Markets Inc. favorites that caught the attention of Redditors.
In February, legendary investor Charlie Munger said that luring newbie investors into betting on stocks is a "dirty way" to profit from their inexperience. "It's most egregious in the momentum trading by novice investors lured in by new types of brokerage operations like Robinhood," the Berkshire Hathaway Inc. vice chairman said. "I think all of this activity is regrettable. I think civilization would do better without it."
Retail trading of stocks during pandemic-inspired lockdowns has surged, and not just in the U.S. The European Central Bank's financial stability report published earlier this month noted that contracts for difference and equity swaps — popular ways of making leveraged bets on equities and other securities — surged to almost 15 trillion euros ($18 trillion) in March, more than double their value a year earlier.

That's even though IG Group Holdings Plc, which bills itself as the world's biggest provider of contracts for difference, says in its online marketing literature that 71% of its retail customers lose money trading the product.
That astonishing figure highlights a lesson that shouldn't be forgotten: Trading and investing are not the same thing. Buying and selling in the hope of making a quick profit is fundamentally different from setting money aside to build a long-term nest egg for the future.
Earlier this month, Fidelity Investments said it's letting teenagers as young as 13 years old open no-fee accounts, paving the way for the children of its existing customers to "learn through action and foster meaningful family conversations around financial topics," the Boston-based firm said.
Given the ultra-low interest rates available on traditional money-market accounts, it makes sense to try to educate youngsters about the broader savings universe, including stocks, as my Bloomberg Opinion colleague Brian Chappatta argued a few weeks ago. But there's a danger that the ability to churn through stocks ostensibly without paying a charge — bid/offer spreads offer a somewhat opaque transaction tax — will lure the teenagers into gambling, rather than investing.
Moreover, the youngest of the current generation of stock-market investors have never seen the aggregate value of stocks fall for more than brief periods. From the end of 2007 until early in 2009, global equities lost 50% of their value, and took six years to recover that lost ground. Since then, the trend has been your benevolent friend. The 30% drop seen last year as the pandemic began to take shape proved to be very short lived.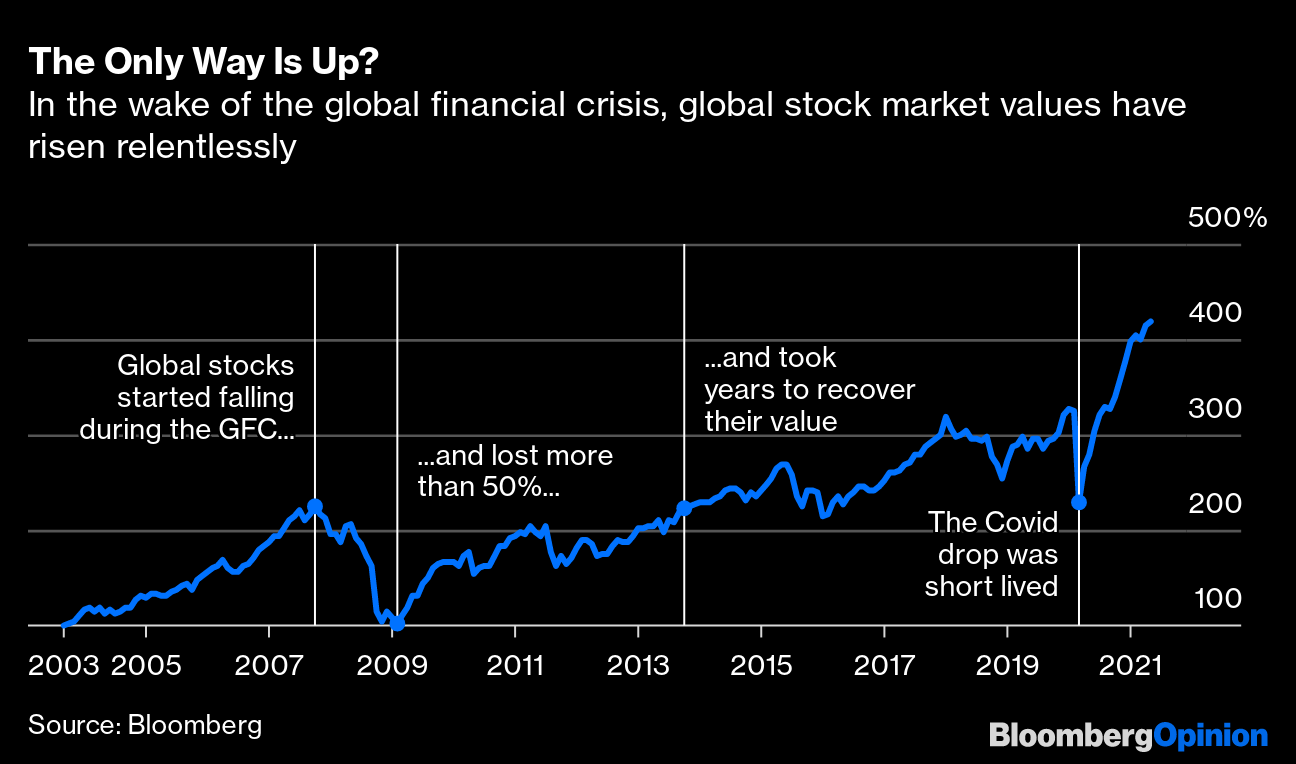 The global…