Adriana Belotti is a "true believer" when it comes to bitcoin, and invests $100 into the volatile cryptocurrency each month .
The Sydney-based tech consultant says it's mainly because of her painful experiences growing up in Brazil in the 1980s, as it transitioned from military dictatorship to democracy.
Key points:
Cryptocurrencies were created as an alternative payment method to remove the middleman (banks)
The price of bitcoin hit a record high ($US64,900) in April 2021
Many traders purchase bitcoin on expectations its price will continue rising
The vast majority of the world's bitcoin mining occurs in China
Hyperinflation was in full swing as food, electronics and all types of consumer goods shot up more than 2,000 per cent each year. Shopkeepers were lifting their prices every week (or even several times a week).
"I remember going to the supermarket with my dad, and having to run in front of the guy who was re-marking the prices in the supermarket because you could get it for a few dollars cheaper," she said.
For that reason, Ms Belotti regards bitcoin as "digital gold" — or an asset to protect her from the debilitating experience of watching her hard-earned money lose all its value almost instantly.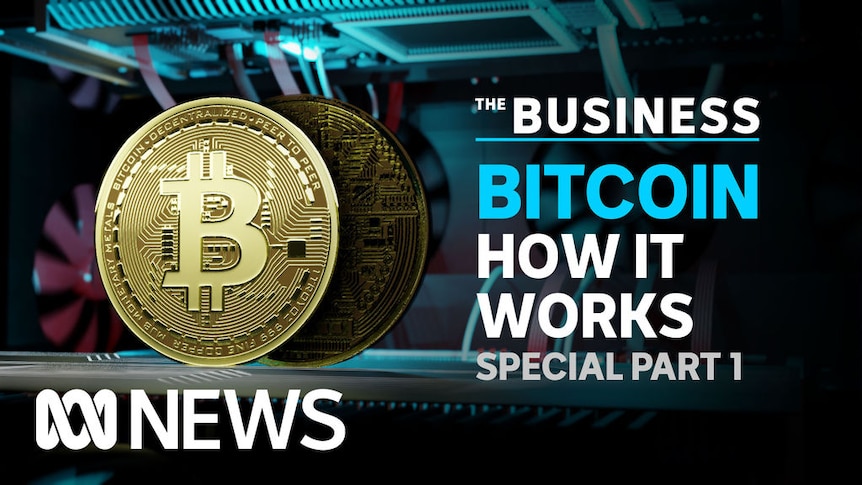 Although Ms Belotti acknowledged this was a "very high risk strategy", she has no regrets because her overall investment has tripled in value (since buying her first bitcoin years ago).
Despite its extreme price swings, she says bitcoin is a lot more stable compared to the Brazilian currency she used to be paid in.
Bitcoin's wild ride
When you you look at a bitcoin price graph, stability is probably not the first thing that springs to mind.
Bitcoin was created in 2009, amid the global financial crisis, by mysterious coder under the alias "Satoshi Nakamoto" – whose identity remains unknown to this day.
Back then, it was worth practically zero. But in the last five years, its value has surged more than 5,700 per cent.
Its price has been on a rollercoaster ride, with several booms and crashes along the way – and many argue that it's a massive bubble.
There are now more than 5,000 cryptocurrencies in the world – including ethereum, XRP, litecoin and "joke" currencies like dogecoin.
Most cryptos in that long list are considered highly speculative, and regulators have warned people not to put in more than they can afford to lose.
Bitcoin surged to its most expensive level ever ($US64,900) on April 14.
It certainly helped that trillions of dollars worth of COVID-19 stimulus was being pumped into the world economy — which boosted the price of cryptocurrencies, shares, property and even second-hand cars.
There was also the idea that bitcoin was increasingly becoming mainstream after payments giant PayPal announced, in October, that it would let users buy and sell cryptocurrency on its platform.
In early June, El Salvador became the first country to take bitcoin as legal tender, which has led to predictions that other nations (particularly with less stable economies) may follow suit.
As new investors saw the price of bitcoin climb to a then-record high ($US20,000) in December, and continued to watch it scale new record almost every week, FOMO (fear of missing out) spurred them to pile in.
The frenzy was also driven by optimistic forecasts from investment banks like Citi (which predicted it could hit $US318,000 by year end).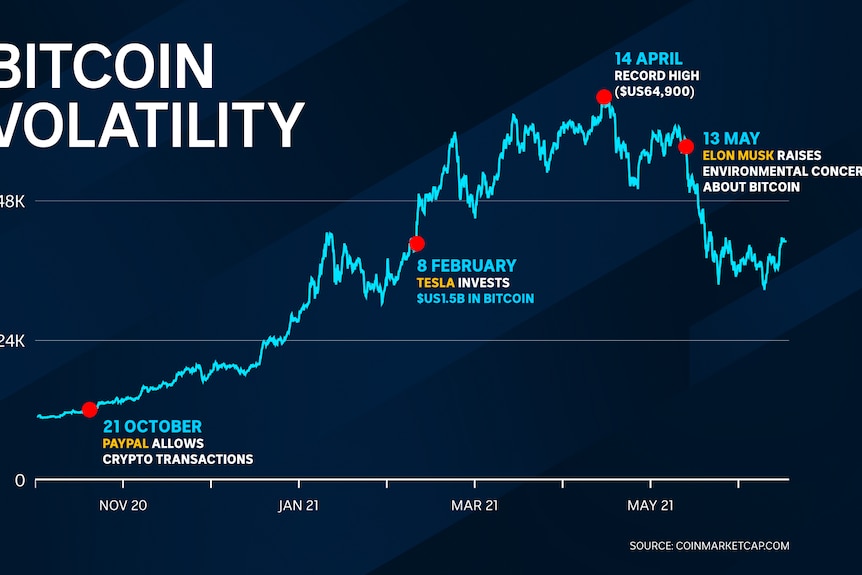 Read More:Why some investors are betting $100 on bitcoin every month